A Digital Media Production student from Stratford-upon-Avon College is celebrating after being offered an apprenticeship with the BBC.
Becca Turrell, 19 from Hampton Magna, is completing her second year of the College's Level 3 Digital Media Production course and is excited to be taking up a BBC Local Radio Apprenticeship.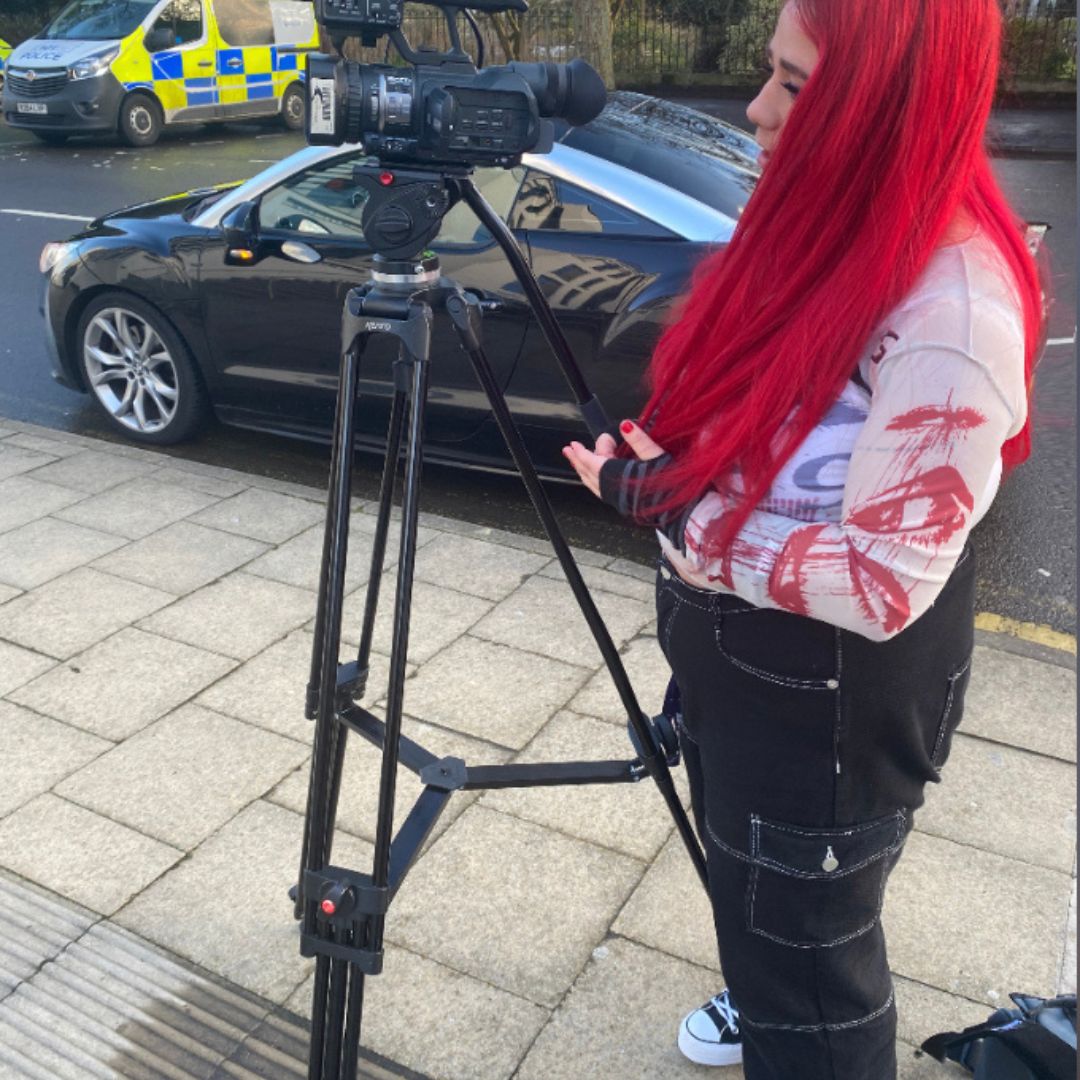 Becca applied for a BBC apprenticeship after she began on an Early Years course at a different college and realised it wasn't for her. But after an unsuccessful application, she knew she had found her passion in Media so started at Stratford-upon-Avon College on the Digital Media Production course.
Media students at the College have access to a state-of-the-art TV and Radio Studio and develop skills in a range of areas such as writing, directing, editing, camera operation, presenting and much more. Throughout her time at college, Becca was able to try out all these related areas to see where her passion lay. After creating episodes of a TV show and podcasts for various projects, she realised her dream job was to be a Radio or TV Presenter and decided to try again for the BBC apprenticeship.
Becca details how her college learning helped her to be successful in her subsequent BBC application: "I definitely think completing my course gave me a better application: it gave me the experience I needed and examples of how I have applied my skills practically in my work."
Becca has worked on film, TV, radio and podcast projects during her time at college
She also detailed the skills she felt she developed during the course: "I especially developed my persistence and perseverance skills as well as being more creative."
The apprenticeship will be based primarily in Coventry, with some work in Birmingham and Salford, and will last for eighteen months, with the chance to apply for internal vacancies upon completion.
Becca is extremely excited: "I knew this is the way that I wanted to go: this apprenticeship was what I wanted to do. I am passionate about creating work that is representative and allows peoples voices to be heard and this apprenticeship will help me towards a career that will help me do that."
Media Lecturer, Shamaila Zaid, detailed how the course prepares students for these types of opportunities: "The course fully prepares the students because, not only are they able to work with industry standard equipment, but they are also given an element of creative freedom to enable them to flourish. The course covers film, television and radio production so the students gain experience in a variety of areas and develop transferable skills that support communication, organisation and problem-solving as well as those in pre-production and production. The students are also offered a range of opportunities to work with external clients and submit work to competition. These experiences provide the students with the opportunity to experience professional work as media practitioners."
Media lecturer, Sarah Downing, is incredibly proud of Becca's achievement: "Becca deserves this apprenticeship because she is imaginative and creative. She always goes above and beyond what is required of her and has demonstrated maturity and professionalism when working with external clients. Becca is also a good team player and is self-motivated to ensure that she completes work to a high standard."
Congratulations Becca and best of luck on your BBC journey!