MUSIC VIDEO PRODUCER FOCUSSED ON SUCCESS
A former Creative Media student from Stratford-upon-Avon College is now working as a professional filmmaker and photographer with her very own thriving business, creating music videos and documenting live concerts.
Michaela Trew, 20 from Shipston-on-Stour, Warwickshire, who graduated in June this year, recently launched her own photography and videography company MJT Productions and it is already going from strength to strength.
Michaela got the bug when her course gave her opportunity to specialise in the music industry and most of her assignments involved photographing bands and producing promotional and music videos, either in studios or at gigs and festivals.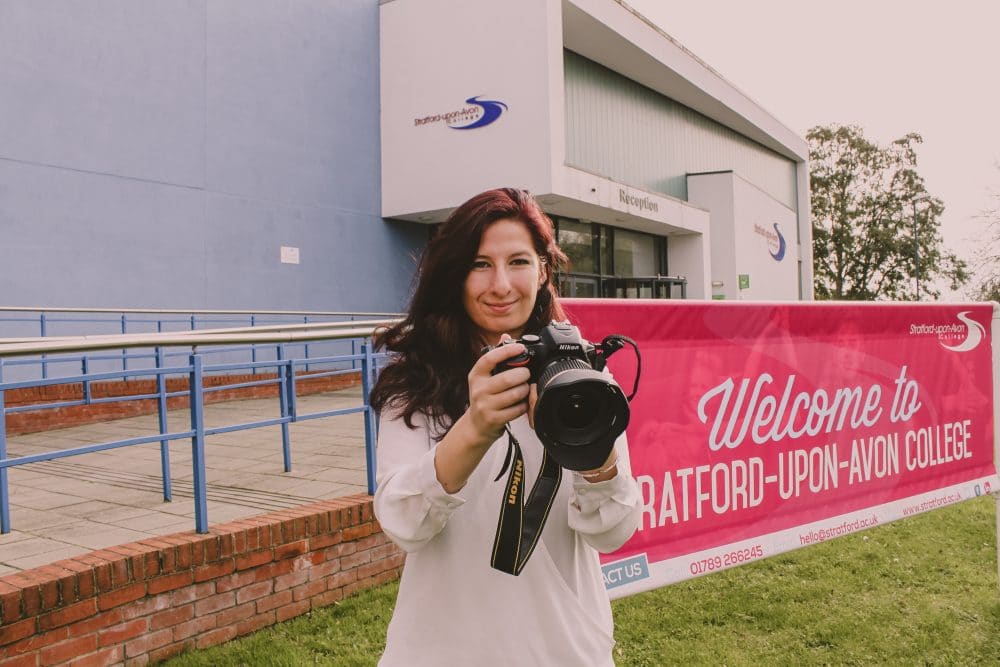 One particularly successful collaboration is with up-and-coming singer-songwriter Tom Forbes, for whom she has produced several music videos – filming his video Stay For Alice is one of her favourite assignments so far. Another was working as photographer and videographer at this year's Nocturne Event at Blenheim Palace in June, where she produced a well-received 'Behind the Scenes' video.
She credits her College lecturers with helping her decide on her current career, and they have fully supported her on her journey to becoming an experienced, self-assured filmmaker. "They were always there to help or even just to give me some confidence. On more than one occasion we sat down and discussed my future and what my plans were."
"My ambition is to gain as much media experience as possible. I hope to progress in the film and music industry with creative initiative, ideas and genuine enthusiasm."
You can view Michaela's work at:
https://www.youtube.com/watch?v=1pqN5ZaBDbI (Tom Forbes' Stay For Alice)
https://www.youtube.com/watch?v=O3VdPU9DRbg (Behind the Scenes at Nocturne)
Find out more about the College's range of Media courses.