Stratford-upon-Avon College welcomed participants from partner college Solihull College & University Centre's Filming Performance Bootcamp as they learnt important skills using the new state of the art multi-camera TV Studio.
Following the successful merger of the two colleges in 2018, both colleges have provided support and opportunities to students across all campuses. With Solihull College producing this fantastic new Bootcamp, Stratford-upon-Avon College were happy to help in fostering new talent.
The Filming Performance Bootcamp is a collaboration between Solihull College & University Centre, The Space and West Midlands Combined Authority (WMCA). It is a fantastic opportunity for those who want to develop skills in multi-camera filming of live performance.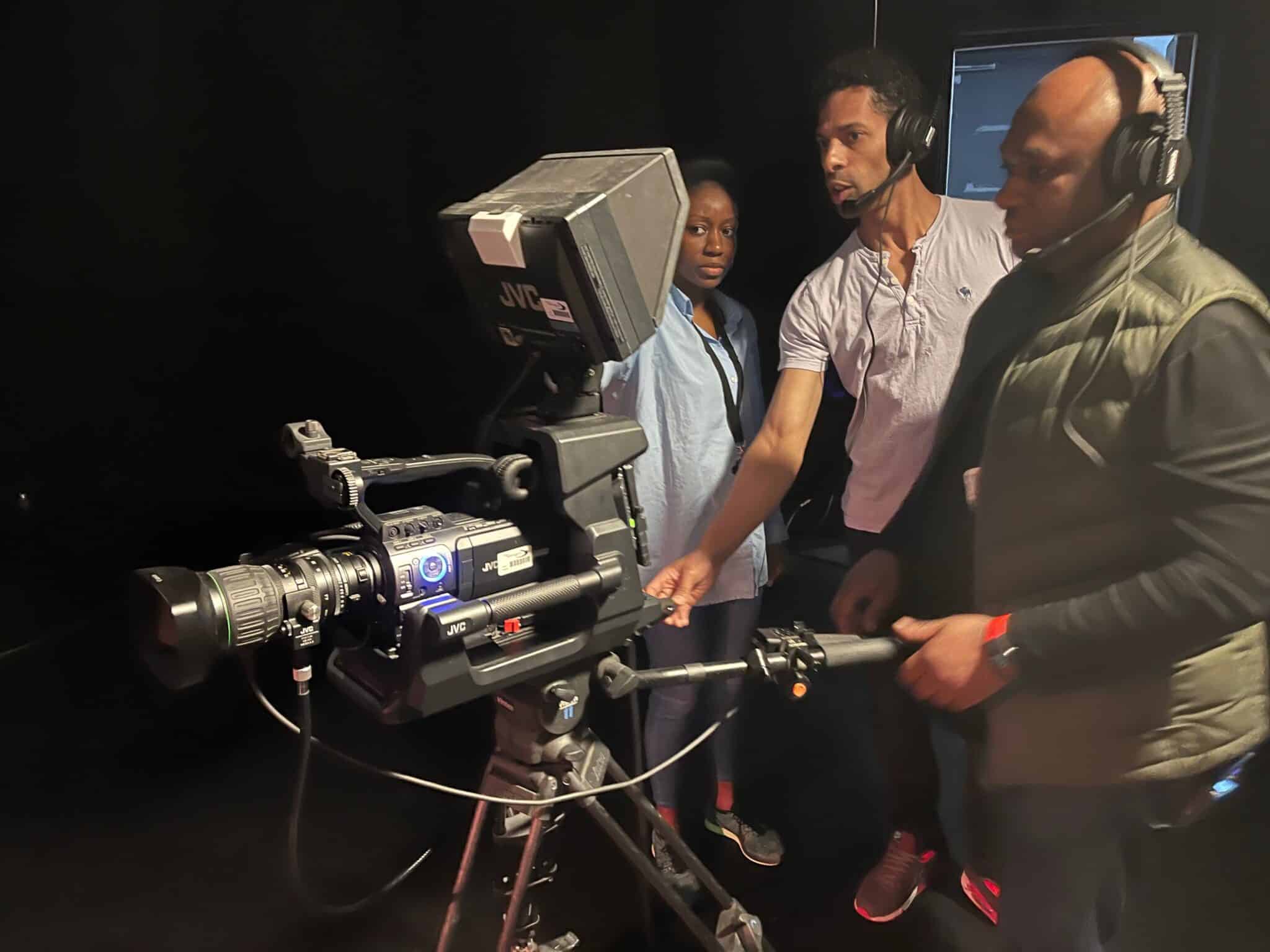 Applicants were invited to join this innovative new skills bootcamp, where they would have the opportunity to be trained by the best in the industry and learn about the skills required to become a producer, vision mixer, or multi-camera director. The programme also provided opportunities to connect with professionals from high profile performing arts organisations.
After working on elements of the scheme elsewhere, the Bootcamp came to Stratford to utilise the amazing multi camera TV studio that was installed earlier in the academic year. Participants were given the opportunity to work with noted actor Nicholas Asbury and then to have a session capturing musical content provided by talented Music students from Stratford-upon-Avon College, pianist Darcey Prodanovic and singer Katie Volkhaerts.
Pianist Darcey Prodanovic and Singer Katie Volkhaerts are students from the Music Performance & Production course
The sessions allowed the participants to work on producing and developing content; allowing them to practise and develop skills to capture live performance.
Hayley Pepler is the Course Associate for the Filming Performance Bootcamp. She has an impressive background, working as Head of Content and Digital Broadcast at Coventry City of Culture, as well as being one of three Producers delivering the Royal Shakespeare Company's Live Cinema Broadcast Projects. Prior to this she had a background in television production, writing for theatre and education.
She got involved with the Bootcamp to help develop skills of practitioners in the area: "I got involved because although I've been working in this field for ten years, there are surprisingly few of us in the Midlands who work on multi-camera live capture. Consequently, there is a skills gap which means that we are largely unable to crew locally when opportunities to capture the work of the fantastic cultural organisations in the region such as Birmingham REP, Birmingham Royal Ballet etc arise. We'd like to try address that – specifically by supporting professionals already working in the sector to upskill into digital and film. There are many similarities between the roles Stage Managers, Technicians, and Directors do in theatre and the roles we need in live capture, and this course helps professionals to bridge that gap."
Hayley details how the Bootcamps are preparing participants for the industry: "We're giving them real work opportunities to film and capture work throughout the course. We're also introducing students to the best practitioners in the field through a series of masterclasses, and we're giving students access to the amazing TV studio facilities at Stratford-upon-Avon College where they can practice and test their craft. Real world opportunities to capture cultural outputs are fully supported by teams of industry professional while students are on the course, offering students networking and shadowing opportunities that will undoubtedly support their future career ambitions."
The participants came from a range of backgrounds and have taken part in the skills development scheme for a variety of reasons.
Madeleine Kludje is an Associate Director at Birmingham Rep Theatre. She detailed why she signed up for the Free training programme: "Due to the Pandemic, theatres need to move forward and look at new ways of creating. This course allowed me to learn new skills that are transferable to my industry. Live capture content can be used to stream theatre as well as create promotional content. It can be great for so many different mediums."
Ty Singleton is a Principal Ballet Dancer at the Birmingham Royal Ballet: "I have had an interest in the visual arts for the past 15 years and am looking at getting into the film industry long term. There has been so much to take from this experience; video editing, camera work, working with actors. This environment allowed me to play and be experimental whilst also growing my skills. Also, the work we create here we can use afterwards so I can build my Portfolio."
The participants got to experience a range of roles working in the multi-camera TV Studio
This is the first Bootcamp in a series, with the next one being a Bootcamp for TV Production which applications are now open for as well as another Filming Performance Bootcamp returning in 2023 for new applicants!
Though the first Bootcamp only was available to those with a WMCA postcode, the next Bootcamps are open to anyone with a WMCA, Coventry or Warwickshire postcode meaning more people can access these amazing projects!