National Apprenticeship Week 2018
BUTCHER HELPS APPRENTICES SHAPE THE FUTURE OF FOOD PREPARATION
Coventry-based butcher Aubrey Allen has created a unique event to give apprentices from the farming, butchery and chefs communities the opportunity to shape their own futures and enhance their careers.
Organised by the award-winning butcher in association with Paul Cadman from Crosby Management Training, 'Farm to Fork' treated the apprentices to a day of masterclasses and introductions to other professionals in the industry. Apprentices from Stratford-upon-Avon College attended the event, held at Aubrey's Academy training facility, and were joined as well as leading chefs and restaurateurs.
First on the agenda was a series of inspirational talks stressing the importance of working together to ensure a healthy future for the British food industry. Speakers included award-winning poultry farmer Robert Caldecott, Andreas Antona, chef patron of Michelin star restaurant Simpsons in Birmingham, and Chris Riley, who was awarded Britain's Premier Young Butcher 2014.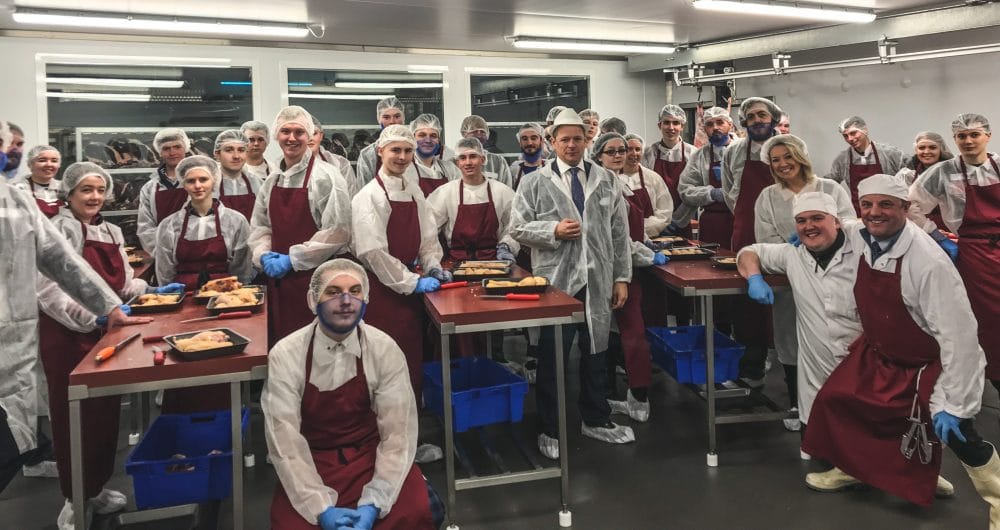 The apprentices were treated to a mouth-watering breakfast, mini butchery tutorials and a beef tasting, as well as being given the opportunity to make new contacts.
Lucianne Allen of Aubrey Allen commented, "Paul and I wanted the day to be about the apprentices and what they want rather than lecturing to them. We wanted them to create new ideas for how they can work together and understand their roles. If we want a sustainable farming future in this country, and people passionate about growing great food for the plate, it all starts here."
The first in a series of masterclasses, 'Farm to Fork' enabled the apprentices to get to know one another; further sessions held over the months ahead will see them continue to learn from professional experts, share ideas, and outline their own vision for the future of the industry.
Under the guidance of Aubrey's Academy and Crosby Management Training, the industry is surely in safe hands.
Find out more about the College's range of apprenticeships.