Acting students from Stratford-upon-Avon College showed life really is a cabaret as they performed a stunning variety show at the Stratford Playhouse.
The students created and performed Cavern of Curiosity, a show filled with a range of performance segments, as their final production and was a culmination of all the skills they had developed whilst at college training.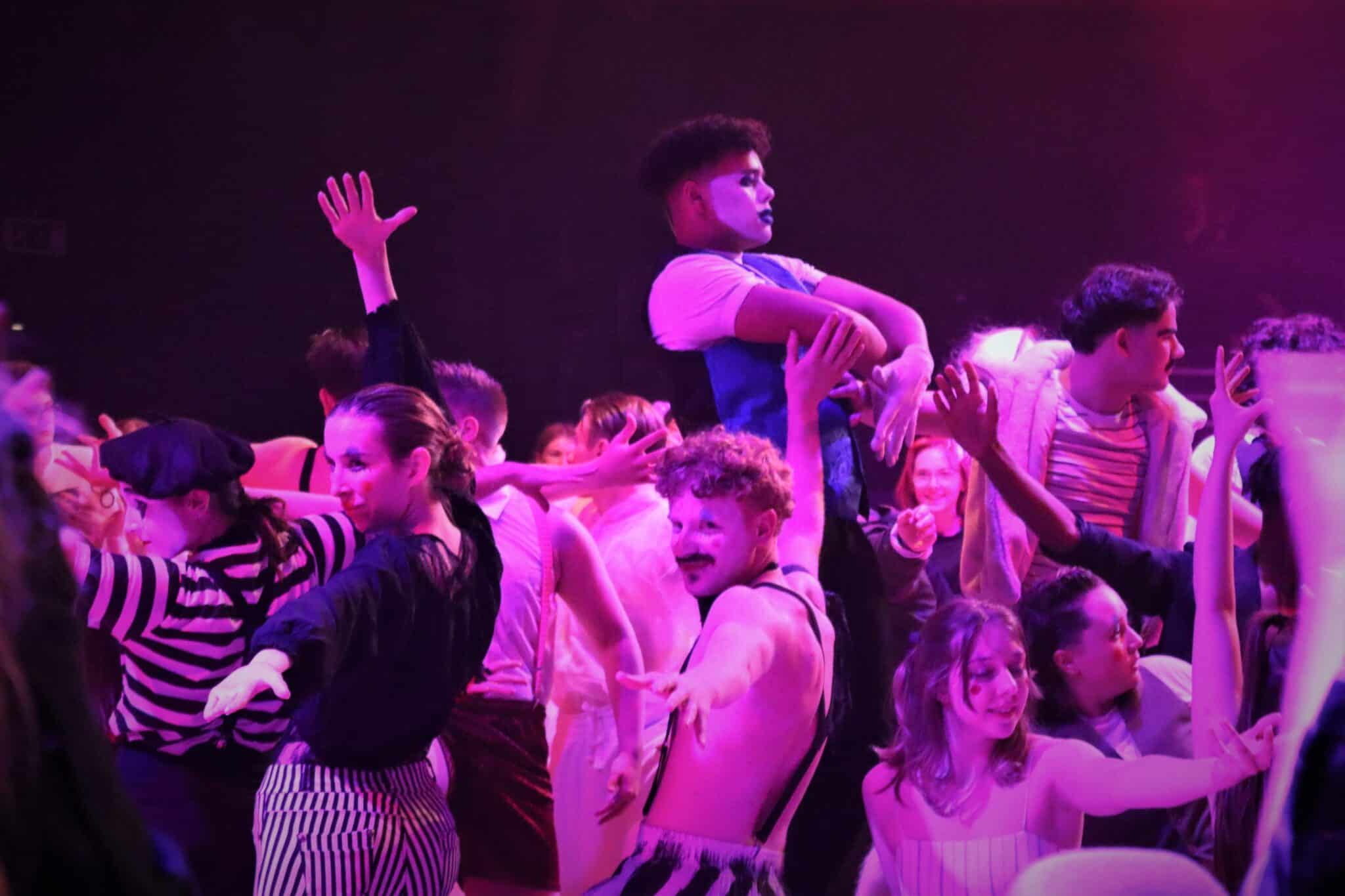 The performance was a cacophony of charisma and colour from the beginning. Set in a cabaret style of promenade performance, audience members sat on tables around the stage. With atmospheric lighting operated by Backstage Production Arts student Jo Paget and a smooth soundtrack operated by student JD Cole, the show began with a bang as the entire company entered the stage in a choreographed dance.
The whole show was inspired by Claire Dowie, an award-winning writer and performer who, after working as a stand up on the cabaret circuit in the early eighties, felt limited by the need for punchlines so started writing plays and inventing her own genre; stand up theatre.
This style was seen throughout the performance, with students intertwining narratives and storytelling around variety act style showcase focusing on themes such as sex, relationships and gender identity.
The show was led by Myron Byfield as the charismatic compere Quinn Kai. With style and swagger, alongside wonderful comic timing and a few split leaps, Myron ensured the show effortlessly moved from act to act. A particular highlight was Quinn Kai's Lament, where the whole company joined the compare in a showstopping number with Myron showing great vocal skill as he belted out the solo.
Myron played the part of the compare with perfection
Comedy was not in short supply in this show with several hilarious sequences. From a delightful drag routine performed by Ryan McCloud, supported at one time with the fabulous drag kings, Mai Worth and Chloe Tucky, the audience got comedy routines, dance numbers and were whipped into shape during a legally blonde inspired workout routine.
The ensemble also treated the audience to incredible pastiche: a favourite being the David Attenborough segment, narrated by the College's own Attenborough Jenson Greenwood where audience members were privy to watching the fertilisation of an egg. Mix that with a wild western shoot out and cracking cowboy duet (Sammy Lees and Dylan Allsopp Judd), a mesmerising mime (Niamh Ray) and a running joke (literally) where a tequila bottle was continually chased off by the ensemble, and it created a show to remember that was a laugh a minute!
Students captivated the audience with a spectacular range of acts
The performance didn't just rely on comedy. Throughout the show, monologues were performed on the mic where actors showcased moving and thoughtful stories relating to relationships and gender identity. Millie MacDonald, Alicia Smith, Kenzie Parsons and Lewis Warrall all delivered touching and poignant pieces. Jasmine Faulkner performed excellently alongside Chloe Tucky and then Millie MacDonald in duologues with great storytelling.
To mix up the energy, the show was interspersed with fabulous physical sequences. Ella Hampson and Sean Andrews deserve special mention for their magnificent 'half and half' dance; showing incredible diversity in their skill set as they showcased stunning lifts and sizzling salsa. Later on in the show they were joined by Myron, Sammy, Lewis and Dylan in an epic dance battle to Holla Back Girl. Another dance sequence was that between Leandro Thomas O'Connor, first with his broom. Twirling around the stage to Moulin Rouge's Backstage Romance, Myron ran onto the stage to chase him off. What ensued was a dramatic dance off that got the audience dancing in their chairs.
Check out some pictures of the students in the show!
The cabaret showed how the acting course allows students to develop skills in a range of areas. Stand-up comedy, pastiche, dance, physical theatre, mime, drag and song were all explored in this performance. The actors shone in their individual performance but also worked incredibly as an ensemble and the production was truly joyous.
Congratulations to the cast of Cavern of Curiosity for their crazily captivating cabaret!