Public Services students from Stratford-upon-Avon College were recently treated to a visit by the Royal Airforce (RAF) to learn about opportunities the service offers and to take part in team building exercises.
The students were visited by Sergeant Andy Chambers who led a presentation on what roles and experiences were on offer when you join the RAF. He was joined by Pilot Officer Thomas Kirby and Pilot Officer Oliver Latham, both of whom had recently finished their Officer training.
The team were able to share why they had joined the RAF, with Tom explaining: "After education I ended up working in retail. But I found the job very repetitive, and the RAF offered better opportunities."
Andy explained to the students that the RAF are involved with responding to threats, preventing conflict, watching the skies, delivering aid, working in partnership with others and combating cyber threats. The team discussed core values such as Respect, Integrity, Service and Excellence as well as the chances for both professional and personal growth – including travel opportunities, skills development, access to training and qualifications and career progression.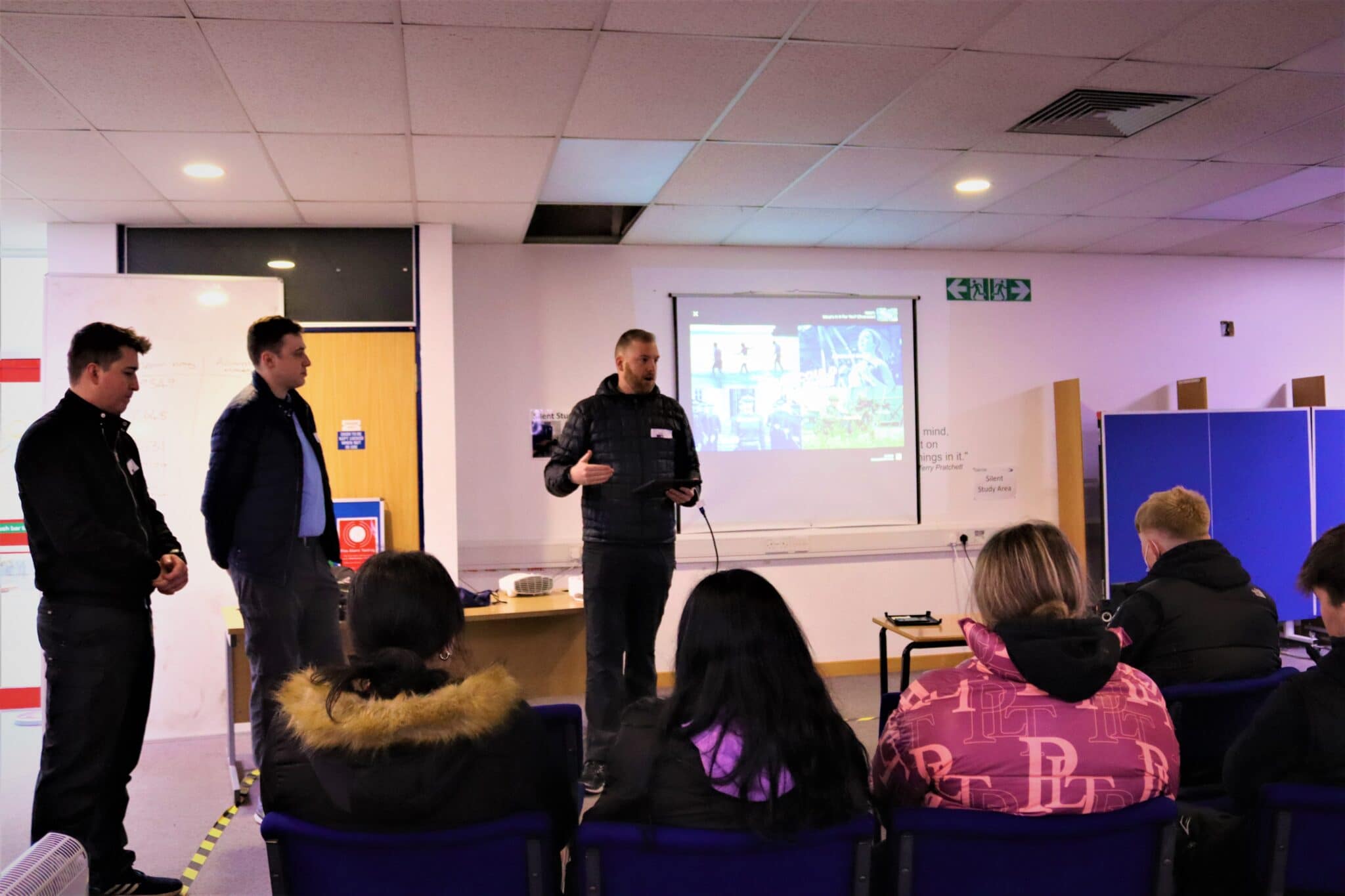 Lecturer Oliver Wilkins was keen for the students to hear about the opportunities the RAF offer: "The RAF allows for students looking for a trade that might not want to go down an academic route. Services like the RAF provide apprenticeships and training as a route to get qualifications whilst being supported financially."
The students then took part in a series of team building exercises; using hoops, blindfolds, and mats in a series of challenges that aimed to inspire teamwork and communication. Pilot Officer Oliver Latham highlighted why these activities were useful: "These are the types of activities we do in training for the RAF. If there is something we hope they will take away it is to dare to do something; putting ideas forward, working with others, taking a chance can be fun and you can learn a lot about yourself."
The students participated in a range of exercises that worked on team building and communication
The students really enjoyed the experience and participated in the exercises with zeal. Student Ruby Carr, 18, commented: "The teamwork exercises were really fun! And we worked on transferable skills we can take with us in our careers." Abbie Honeywell, 18, found the presentation enlightening: "It was interesting as I didn't know about all the different roles, like their version of the infantry, I assumed they were all the same."
The visit was a great success. Lecturer Oliver commented: "Guest speakers make the students think. And when the students leave college, these are the experiences they remember and take with them."
To learn more about what the RAF can offer visit their careers page.