Musical Theatre students are bringing feel-good family entertainment to Stratford-upon-Avon College this month with their new show Dames at Sea.
In this toe-tapping performance – a witty, entertaining homage to the Busby Berkeley-style musicals of the 1930s – young chorus girl Ruby, having just arrived in New York from the Midwest with nothing but her tap shoes and her dreams of becoming a star, steps into a role on Broadway and realises those dreams.
Along the way there are the inevitable obstacles to overcome: a rival in the form of the show's ruthless leading lady for the affections of Dick, the song-writing sailor who helps her achieve her dreams of stardom; and the devastating news, just hours before the opening night performance, that their theatre is to be demolished. But in true movie musical style, help is on hand – from Dick and his sailor friends who offer their battleship in its place!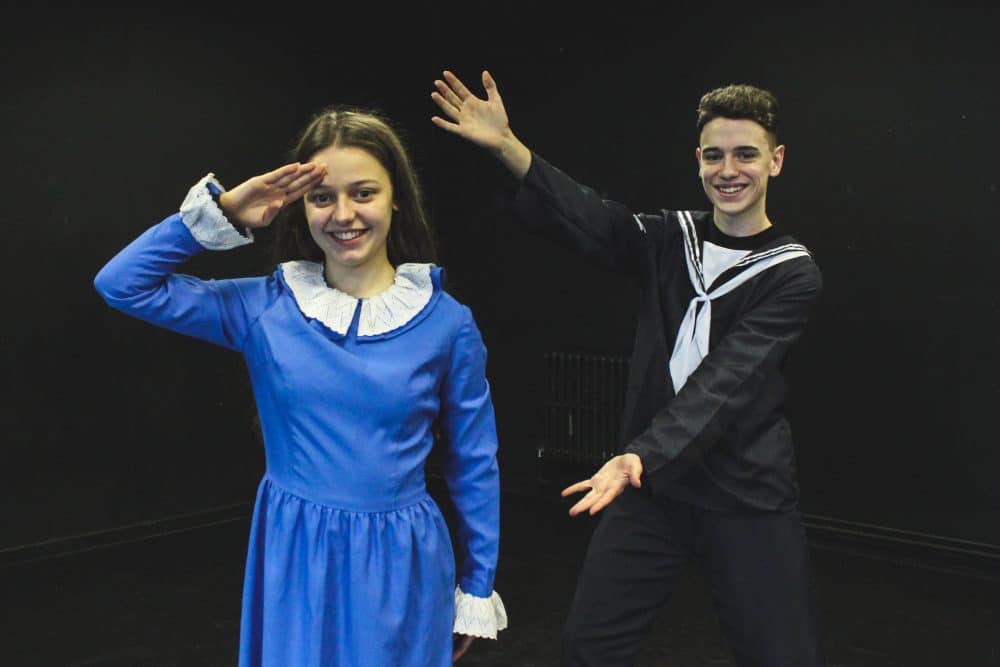 Francesca Scott, 17 from Birmingham, and Gabbie Bradshaw, 17 from Coventry, lead the cast as Ruby and is thrilled with the opportunity to be a part of the performance. With aspirations to continue to stage school and specialise in musical theatre and dance, Francesca commented "Performing at College gives a huge insight into what working as a professional performer will be like. On the night of a show you get so fired up and it feels like nothing can stop you – it's a great feeling."
Joseph Canning, 18 from Birmingham, and Theo Cumming, 20 from Banbury, take the role of Dick. Now in his final year at College, Joseph is excited to showcase his talents: "In our first year at Stratford we focused on individual skills and techniques of performance one at a time, but for this show we're putting everything we've learnt together into one show. We can really prove what we can do."
Discussing the obstacles facing the students in preparing for the show, Musical Theatre lecturer and co-director Kat Bayley commented "Dames at Sea is a fresh challenge for the students as it is a Tap Dance musical. All the company have had to don their tap shoes and get their shuffle-ball-changes in order so they can master their steps."
Alex Dengate, Musical Theatre lecturer and co-director, is confident of the benefits that performing in full costume to a paying audience offers students: "Performance opportunities like this are the most effective form of work experience the College can provide its students.
"This is a part of why SUAC's performing arts provision is so unique and sought after – students get to experience the closest thing to a professional show whilst working and training in the supportive and challenging educational environment that the college provides."
The last word goes to Francesca: "It's a great feel-good family show that's full of laughs, and the dance choreography is amazing."
Dames at Sea will be performed from Wednesday 30th January to Friday 1st February at 7.30pm. Tickets are available for £10 and can be purchased at https://damesatsuac.eventbrite.co.uk.