STUDENTS' SONG-AND-DANCE SET TO GET STRATFORD ROCKING
Performing Arts students from Stratford-upon-Avon College will get the town rocking this month when they perform their latest Musicals ROCK! extravaganza.
Promising to be a spectacular collaboration between Music, Music Production, Dance, Technical Theatre, Musical Theatre and Media students, 'Musicals ROCK! VIII – Back to the Movies' showcases everyone's favourite songs from the movie world's most popular screen musicals, including Sister Act, Chicago and Fame.
The production, staged at the prestigious Stratford PlayHouse from Monday 13th to Wednesday 15th May, is the end-of-year finale for the students; many have already secured places at prestigious acting and dance schools across the UK, so the standard of performance will be particularly high.
Musical Theatre student Calum Howard, 18 from Birmingham, describes this year's show as dance-based: "There are a lot of dance-focused musicals and we've got different styles ranging from 1920s Fosse-style jazz dancing to 1990s hip hop – it's a very physical show."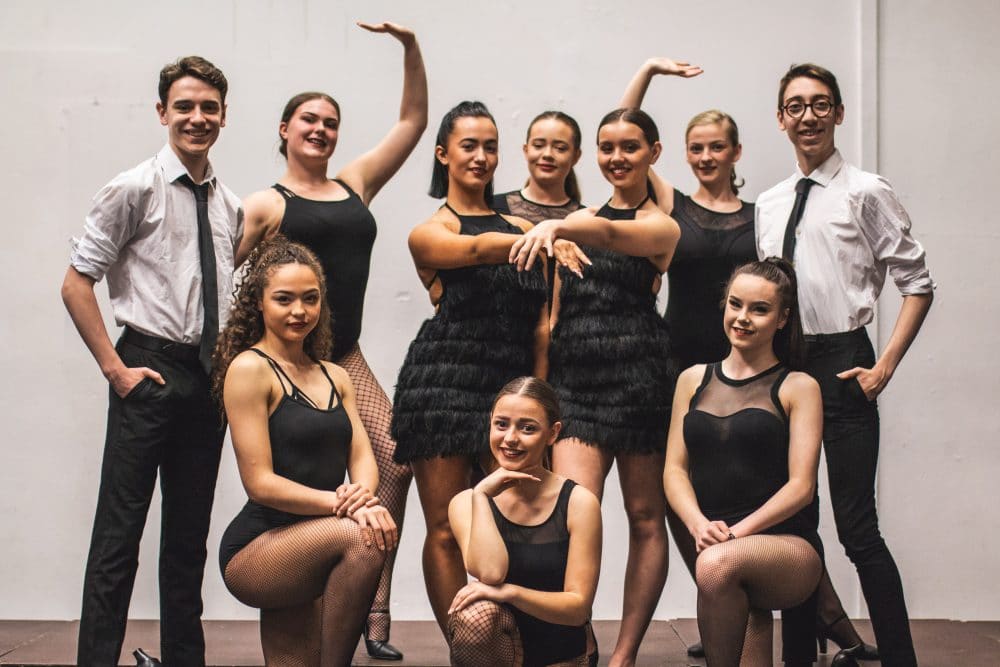 Of all the various routines, Calum, who has also taken on the role of Costume Manager, picks Boogie Nights as his favourite. "It's such a feel-good number. I really love the costumes because we get to wear completely different outfits for each section, as we move from film to film. Chicago is very sultry and then Boogie Nights lets us wear 70s flares."
Dance student Sophie King, 17 from Solihull, also considers Boogie Nights the most enjoyable section of the show. "It involves a lot of popular songs that everyone knows. If I heard them at a party I would definitely dance to them!"
Both recognise the part the College has played in preparing them for the performing arts industry, in particular for the audition process. Calum said: "We've had lessons specifically focused on honing our audition technique. Professional auditions are so challenging but I feel much more confident having studied here."
Sophie, who plans to study Acting, Film and Musical Theatre at the University of Winchester after graduating from College, agrees, but is most grateful for its supportive atmosphere. "I love the feeling just before we're going to go on stage when we're waiting in the dressing rooms. We all support each other and there's so much energy bubbling up ready for a show."
Calum summed up the students' message: "If you want a night of musical fun and incredible dancers, come along to Musicals Rock VIII!"
And the show's co-director Philip Watson-Smith enthused: "Our annual Musicals ROCK! is once again back with a bang as we take on 'Musicals ROCK! VIII – Back to the Movies'. The show is set to ROCK the Stratford PlayHouse between the 13th and 15th May and we anticipate sell out performances so get your tickets now."
Doors open at 7pm for a 7.30pm start and tickets can be purchased from www.suac.eventbrite.com
Find out more about the College's range of Performing Arts courses.