Acting students from Stratford-upon-Avon College recently brought the fun and the fabulous for their final show of their course.
The second year students performed in Mollies: A Deconstruction of Gender which was a piece created in response to Mark Ravenhill's play Mother Clap's Molly House. Their piece followed the story of Mrs Tull, and how she tries to keep her shop open after her husband dies.
Selling fabrics by day and then transforming her shop at night into a place of drink, laughter, dance and debauchery, the show looks at identity, acceptance, motherhood, and love. Set in the 18th century the cast wore gorgeous period costumes, but this was juxtaposed by the modern music sections and dance sequences throughout which drew audiences' attention to the parallels between the attitude towards gender and sexuality shown then and now.
The show was a success from start to finish. The entire cast displayed explosive energy and went from high comedy to intense drama at the drop of a hat. The stage set up was simplistic in order to draw attention to the colourful costumes, pleasingly a rainbow of colours which represented the colours in the Pride flag.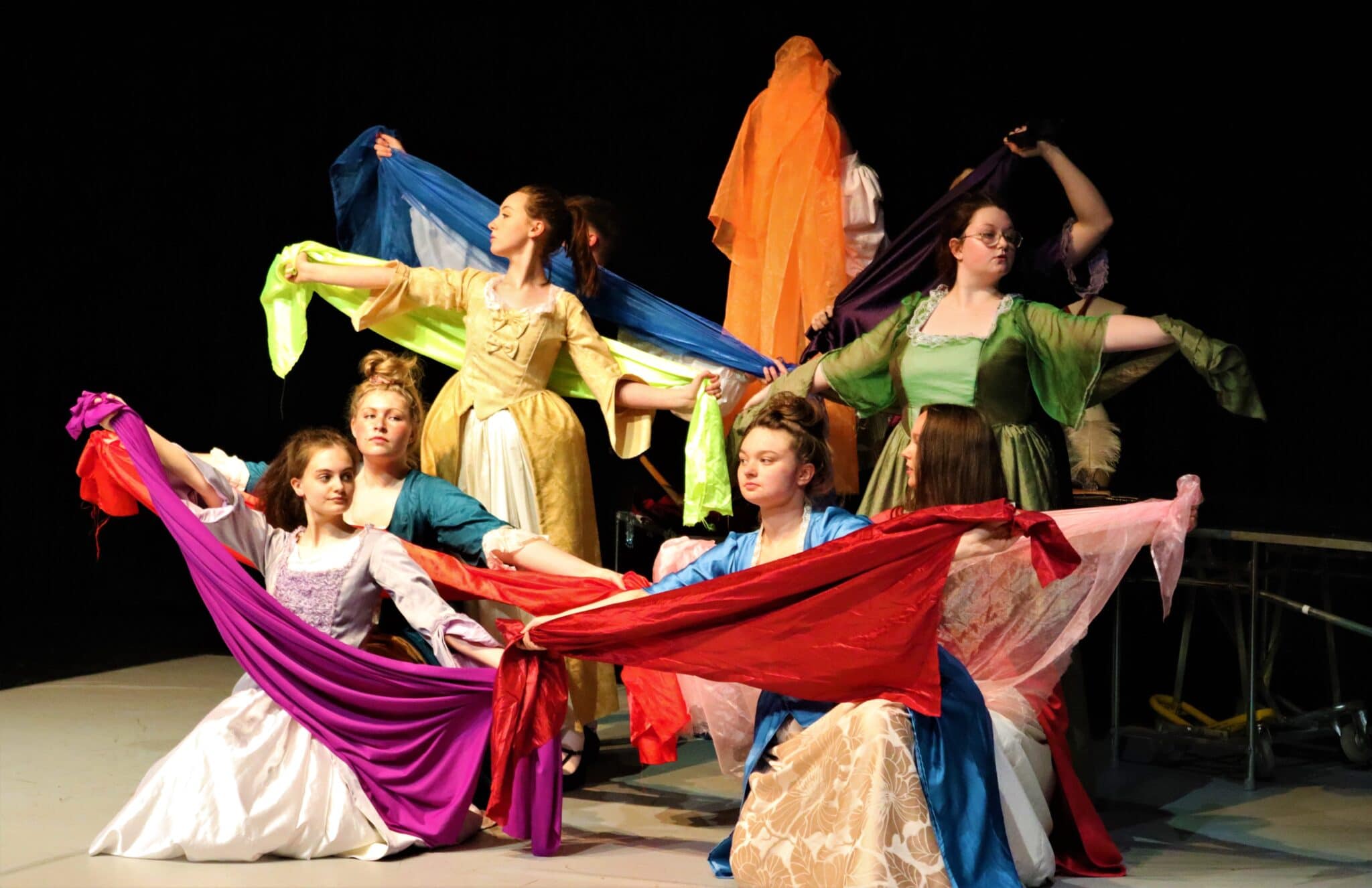 The story centred on Mrs Tull played by Elle Lewis who confidently led the show with a commanding presence. Her assistant, Martin, was played by Malachy Power-Lydon and the pair had great on-stage chemistry with heated arguments jumping to affection in a realistically familial way.
But it wasn't just with Elle that Malachy had chemistry. His connection with on stage love interest Thomas played by Luke Saidler was intimate, fun, playful and sincere with Luke being a delight to watch with energy, flair and sass, not to mention backflips to boot!
Luke wasn't the only character with a powerful stage presence. Peter Berry's expert grasp on comedy meant he owned the stage whenever he stepped upon it. And with just as much skill his emotional delivery was nuanced and compelling.
Have a look at some of the great scenes from the show
The whole show was a delight with students tackling a range of issues with confidence. From moving monologues to hilarious physical capers, the show had it all. As Lady Gaga's born this way and Tina Turner's Proud Mary blasted into the theatre, the audience cheered the casts fun routines. This was a show that was a true celebration; which was a fitting end to these student's time at College.
Congratulations to all the cast and crew involved!