College Apprentices Nominated for Top Award
Wednesday, 9 November, 2016
Two Stratford-upon-Avon College apprentices have been nominated for a prestigious regional award in recognition of the valuable contribution they make to their employers and the local economy.
Armands Vinklers, 24 and originally from Latvia, and Daniel Herbert, 19 from Inkberrow, have been short-listed for the Coventry and Warwickshire Apprentice of the Year Awards. In total, 41 apprentices have been nominated; they come from throughout the region and are employed in a range of roles from hospitality and catering to automotive engineering.
Stratford-upon-Avon College creates the training framework for both nominees' work-based learning programmes, ensuring that they are confident in their professional roles and secure in their understanding of the assignments they must complete. The apprentices spend four days a week in the workplace performing tasks just like any other employee.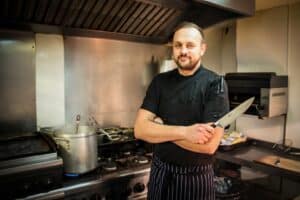 Armands moved to the UK from Latvia and works as a Professional Cookery Apprentice at The Fish and Anchor Inn in Evesham. His apprenticeship has not only provided a career for Armands, but also a solid base for him to build a home life in the UK. He arrived in England with the ambition of securing a career in the catering industry. In addition to developing his core skills in the kitchen, he has completed classes in both English and Maths. Armands is now firmly established at The Fish and Anchor Inn and his partner and young son have now joined him in their new home in the UK.
Armands had little previous experience of working within the catering industry but impressed his employer with his exceptional professionalism and attitude to work. Due to his outstanding commitment to his employer, he has recently been promoted to Sous Chef, assisting the Head Chef in producing outstanding culinary delights.
Stevie Edmund-Jones, Head of Employer Engagement at the College is immensely proud of Armands' achievements and is continually impressed by his professional conduct.. "He deserves this nomination because he took a massive step in his life, not only to gain employment but because he left his homeland to achieve this. He has proved to be an excellent role model for other young employees at the restaurant.
"He has progressed and evolved in his role by showing great focus and determination, putting his ideas and skills forward in order to help the overall business to gain a good reputation and success as a food establishment."
Armands himself said; "I'm so happy I decided to come to England and learn to be a chef. I am very proud to be nominated for Apprentice of the Year and I'm grateful to the College and everyone at The Fish and Anchor Inn."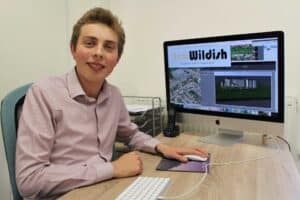 Dan works as a Building and Construction Apprentice for ArchiWildish Ltd architectural designers in Bidford-on-Avon. He primarily focuses on office administration but he is also learning about architectural software as well as the construction industry as a whole, and he has aspirations to train to be an architect himself. His confidence in engaging people has developed immensely throughout the apprenticeship and every day his autonomy expands.
Dan commented: "I love working here. I'm trying to broaden my knowledge as much as possible and learn as much as I can about all the different aspects involved in being an architect. Being nominated for this award is the icing on the cake, and whatever happens on Thursday I feel immensely proud and grateful."
Mark Wildish is the Chartered Architectural Technologist at ArchiWildish is consistently impressed by Dan's work ethic. "I think Dan is worthy of being Apprentice of the Year as he applies himself 100% to the task at hand. He even attends additional planning committee meetings purely for his own interest and learning. He's always attentive, constructively takes on board criticism, and represents the company with his smart and polite personality."
Both Dan and Armands will be attending the ceremony, nervously awaiting the result of the contest. We wish them good luck!
Find out more about the College's range of apprenticeships.