MEDIA STUDENTS HELP TO LAUNCH JOHN TURNER PRIZE
Creative Media Production students from Stratford-upon-Avon College played a key role in the launch of a new competition designed to encourage the community to care for the environment.
Following on from the successful "Promo It!" project, for which students produced promotional videos for local businesses, College students Deanna Smith, Keira Gammage and Reece Ord were asked to create a film for the John Turner Prize, set up by local litter-picking charity Rubbish Friends.
John Turner, of Stratford-upon-Avon, who founded Rubbish Friends, tragically passed away from cancer last year and his two young children launched the environmental competition in his name. It challenges school and college students to use their creative skills to raise environmental awareness amongst local residents.
The students worked with Becky Reynolds, a founder of the Stratford-upon-Avon branch of Rubbish Friends, as well as the Turner family, to plan and produce a video featuring John's wife and children, his passion for the environment and the prize they created. They spent a day filming with the family in Stratford, and created a three minute film which was shown at the launch event at Alveston Primary School and which was so impressive it was used by the BBC for its news report on the competition.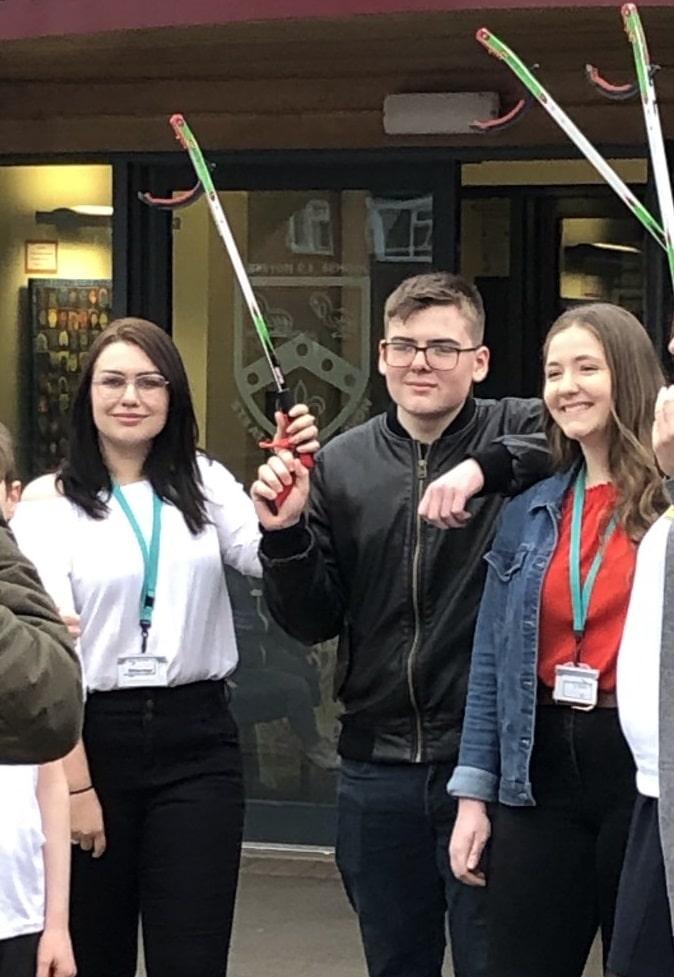 College Graphic Design students were also involved in the project, creating the branding and posters for the John Turner Prize.
Becky commented: "The launch of the John Turner Prize proves the competition embraces the whole community – members of Rubbish Friends as well as school pupils and College Media students were present.
"The students were exceptionally professional – both in terms of the production of their launch video and the technical support they managed throughout the event. The video was fabulous. It was accessible to everyone, young and old. I particularly loved the positivity it presented which I know brought happiness to John's family."
Stratford-upon-Avon College Creative Media lecturer Sophie Jolly was equally delighted. "We are thrilled that Rubbish Friends have continued their relationship with us by, asking our students to create this film and using the work of the graphic design students. The BBC's decision to use some of the material was fantastic and a great shopfront for the College, the department and the fabulous work our students create."
The students' video can be viewed at https://tinyurl.com/y4ckrb25
More details about Rubbish Friends can be found at https://www.facebook.com/groups/rubbishfriends/
Find out more about the College's range of Media courses.